'19 '20 Season update information
---
Thunder... Important Information! Check it Out!

Thunder, welcome back to community ball!
What you will find below:
Outstanding fees - double check your RAMP
registration - completely closed out!

coaches

meeting

- quick run down on Thunder along with your chance for QnA
evaluation dates/information - schedule is up!
CMBA

coaching

clinics - get educated and updated
Tykes - teams are being scheduled
Thunder - team.community.commitment
Double check that you have paid all your fees!
Fees are due in full

BEFORE

evaluations
. You would have received an email with instructions on how to complete the balance of your payment.
If you applied for FA and there are outstanding fees you will receive an email from Thunder. You do not need to contact us, we will reach out to you as needed.
Registration
Registration is CLOSED.
Unfortunately we had to turn away a number of players, so a reminder to set yourself a notification in your calendar that early registration kicks off in June to avoid disappointment.
6-8pm Friday September 13th at Edgemont Community Association (33 Edgevalley Circle NW) in the gym
first 20-30 minutes will be a run through on Thunder basketball (intent, expectations, etc)
10 minutes or so of QnA
back end of the meeting will be an overview of "how to run a practice"

give coaches a general idea of how to utilize your time with your team

warm up
balance of drill(s) to game play
progression through drills
repetition between drills and game play
short start and stops, communication throughout, what is working and what needs work

and of course QnA
Evaluations (reminder, NO evaluations for Tykes)
are at

SAIT

(campus map below) - 1301 16 Ave NW, Calgary, AB T2M 0L4
https://www.google.com/maps/place/SAIT+Campus+Centre/@51.0633118,-114.0901301,15z/data=!4m5!3m4!1s0x0:0x2143bc8e7397787f!8m2!3d51.0633118!4d-114.0901301
ALL SAIT GYMS ARE IN THE SAME BUILDING.... enter the facility, work your way down to the lower level, and you will be able to find your way to the gym entrance.
It is important that your child attend ALL of their scheduled evaluation. There are NOT individual time slots, evaluations run for the full division as shown in our schedule below.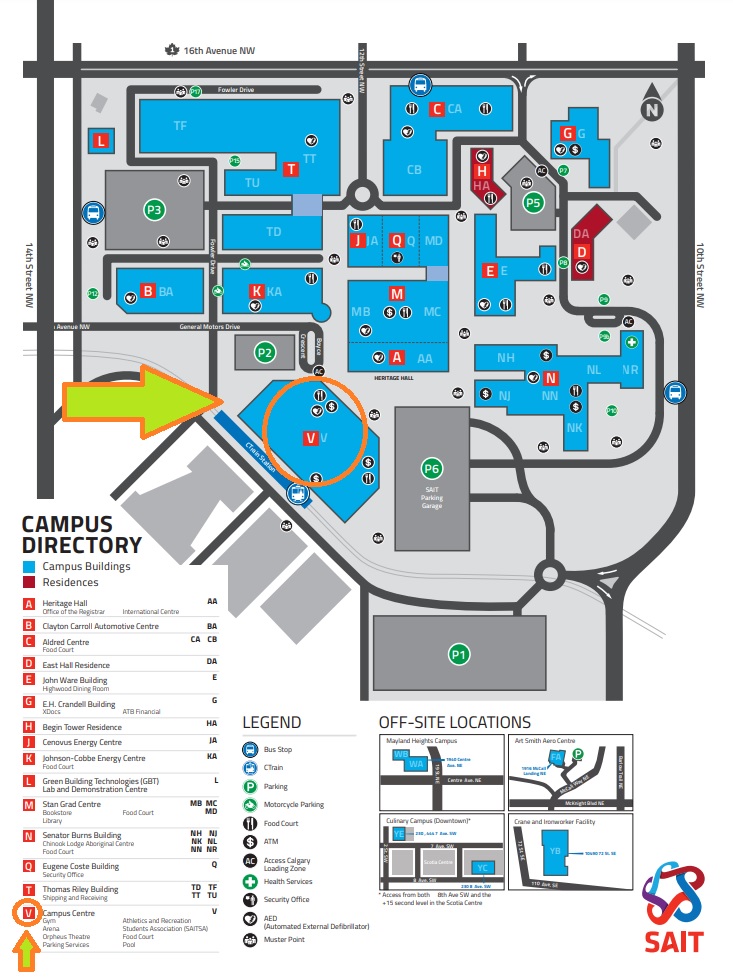 Highlights/housekeeping notes to remember to make evaluations and our forwarding season successful for coaches, players, and parents/guardians.
ALL FEES are required BEFORE EVALUATIONS! If you have any outstanding balances, you must log into your RAMP account and have these paid.
Arrive 15 minutes before your start time to check-in, get your assigned number, and be dressed to play
NON-marking indoor shoes; clean sole shoes that your player will be good to run in
athletic clothing; they will be working hard, so please dress for it (if possible please wear a reversible jersey, that would be appreciated and will assist us)

Water

bottle

with name or markings (good idea to pack a small, litterless, snack for energy)

Bring your OWN basketball

with your name or markings
no dribbling anywhere outside of the gym!
COME TO YOUR ASSIGNED SESSION
final team placements will be communicated by each coach to parents by Monday September 16th (additional evaluation dates, if required, September 9-13th - attendance ONLY if requested)
team coaches will communicate practice days/times directly to parents
A reminder that parents may stay, but are not allowed in the gym or at the doors during

evaluations
. This is partly for safety reasons due to overcrowding.
If a child has medical issues, such as diabetes, parents are to stay nearby.
**AGAIN, all evaluation gyms are CLOSED sessions. You are welcome to remain within the facility, though a reminder to please be respectful of the space (no siblings running through the campus buildings, no garbage left behind, be respectful of the space... we want to be invited back!)**
Evaluation Overview for Parents/Guardians & Players:
The overall purpose of evaluations is to place each player on a team where they have the best opportunity to have fun and develop as a basketball player. All registered players will be put on a team. The evaluation process will include a variety of skills/drills and team play. The evaluators will be a mix of coaches and qualified evaluators from the communities within NCBC Thunder Basketball. An evaluation panel will make all final decisions regarding team assignments.
CMBA

coaching

clinics
- GET REGISTERED! ...dates/times are filling up
All
coaches
come out with only the best of intentions and parallel to that thought, CMBA wants to make sure you have the foundational tools to build off of... plus keep in mind this sport evolves! With that thought in mind it is also a moment to reiterate that CMBA ball is based on the Canadian style of play.... what does that mean?!? Perfect, you register, take the FREE course and learn it, to implement it!
CMBA has been at the leading edge of offering the most up-to-date and well researched youth sports development models to their
coaches
. The concepts and ideas presented in the CMBA
Coach
Development clinics has resulted in exciting success - the feedback provided by
coaches
attest to this fact. Years of research & development in youth sports has resulted in proven teaching techniques, proven decision-making processes and proven Style of Play concepts that
coaches
are encouraged to utilize. CMBA has embraced these best-in-class concepts and the results speak for themselves.
Canada Basketball's Long Term Athlete Development (LTAD) Model, Rick Torbett's
Read
& React Offense and Point Guard College's concepts to develop players are all utilized in CMBA's Fall CD Program.
Tykes
Our camp style
coaches
are set and facilities in place. We will contact you through the beginning of September with your assigned team schedule through the free app TeamSnap.
**find the TeamSnap app and download it now or when you get your invite!**
Reminder, mark down that Tykes will be kicking off either the 2nd or 3rd week of September. Again specific information to come with your TeamSnap schedules.
Thunder - team.community.commitment
Lets be ready for the season, excited for the opportunity to play ball, and ensure we are respectful to all involved. From your Thunder board, to your
coaches
, to CMBA, to our facilities, to your family, to our competitors.... we show up, leave it all on the floor, and ALWAYS do it with respect!
Being part of Thunder is being part of our team, you are our community and we are committed to offering each other the best basketball experience possible. It is a sport, we are competitive, and in it we always show good sportsmanship!
To you all, enjoy the rest of your summer and we look forward to seeing you in September. Arrive hungry so we can get after it... heart & hustle!
Coach Stephen J. Kerr
President